Don't worry -
no fish eggs here.
This delightfully easy, versatile recipe, has become a staple in my kitchen. Use as an appetizer served with chips or pita squares, use as a topping to jazz up fish, or use as a new topping twist on tacos.
You can make this recipe ahead of time and store in an airtight container in the refrigerator for up to five days.
I am linking up this week with one of my favorite bloggers, Jamie from
Chosen Chaos
, and her partner in crime Denae from
New Mom Survival Adventures
for the Easy Peasy link up. Check out some great recipes - all with ten ingredients or less!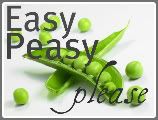 Ingredients
1 Can (12 oz.) Organic Black-Eyed Peas, drained
1 Can (12 oz.) Organic Black Beans, drained
1 Can (12 oz.) Organic Whole Kernel White Corn, drained
1 Jar (8 oz.) Organic Pimentos, drained and chopped
1 Small Organic Red Onion, peeled & chopped (approximately 1/2 cup chopped)
1 Large Organic Green Pepper, chopped
½ Cup Organic Apple Cider Vinegar
¼ Cup Organic Extra Virgin Olive Oil
½ Cup Organic Agave Nectar
Salt & Pepper to Taste
Directions
In a medium mixing bowl, combine: black beans, black eyed peas, onion, pepper, corn, and pimentos
Add vinegar, olive oil and agave nectar, stirring until well combine
Season with salt and pepper to taste
Cover and refrigerate for 30 minutes
Drain excess liquid prior to serving
Enjoy with chips or pita squares or use to top fish or tacos
(Can be stored in the refrigerator for up to 5 days)